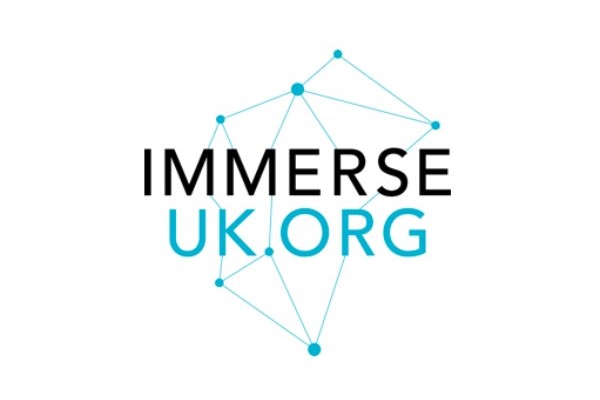 Written by Bernadette Fallon
We are pleased to confirm that Immerse UK are partnering with us again this year on ARVR Innovate. This is the second year in a row that the British immersive organisation has officially supported the conference, building on their long association with ARVR Innovate.
Bringing together industry, the public sector, researchers, entrepreneurs and innovators, Immerse UK works to connect people and organisations across the immersive technology sector, supporting growth, funding and collaborations. Set up and led by Fiona Kilkelly, who is also the creative industries lead at Britain's Knowledge Transfer Network, it currently supports 1,700 UK members. Keen to extend its international network, Fiona will be speaking at ARVR Innovate in May.
"This is a great opportunity for us to build relationships with the developer community in Ireland. ARVR Innovate is an important event on the annual calendar from our perspective, as it's great to have a platform in Ireland were the industry comes together on an annual basis, bringing together Irish expertise and business experience and also bringing in an international context."
Though based in the UK, the organisation is looking at collaborations world-wide, with recent field trips to India and the US Pacific Coast. Canada is also of interest. On her forthcoming visit to Ireland she is keen to share perspectives with the Irish immersive tech community, to share key opportunities within the sector and to get a better understanding of the strength of the Irish market.
There is also the facility to introduce Irish businesses to their UK counterparts and enable partnerships, she explains. And Irish contacts will be useful for the UK companies who are keen to collaborate and get involved with what's happening in Ireland.
Outlining the body of work Immerse UK has recently undertaken to produce a report into the current state of the UK immersive economy, which will be published shortly, she touches on possible insights for the Irish sector. "This report gives us a thorough understanding of the UK eco-system – how many businesses are operating in the sector and where they are based, what are the opportunities and barriers for growth and what are the key markets. There may be useful learnings here for Ireland, particularly in the context of Irish opportunities in light of the Brexit situation. And it would be fantastic to have a corresponding picture for the Irish immersive tech sector so we have a better understanding of the opportunities for UK businesses."
Living in the UK since early 2000, Fiona has held leading roles at Creative Skillset, KTN and the Digital Content Forum. She is originally from Ireland with a background in the creative industries sector, where she worked as Manager of the International Galway Film Fleadh, Head of Training at Galway Media Centre and Manager of the Children's International Theatre Festival, Baboro.