ARVR INNOVATE 2020 Speakers will be announced soon!
International Speakers
ARVR INNOVATE  features more international speakers than previous years
Our main stage features international speakers with talks and panels from some of the top minds and influencers in AR and VR today. Feature discussions and presentations will be held on:
Enterprise AR use-case studies
Improving your training with VR
Up-skilling for immersive tech in your business
Building your brand with immersive tech
Leveraging the power of AI, 5G and immersive tech
2020 Speakers announced soon
Join us online on May 7th for the 7th International ARVR Innovate Conference and Expo. Where Augmented & Virtual Reality Get Down to Business.
ARVR INNOVATE 2020 is packed with new speakers from top international companies deploying AR and VR in their businesses today.
One of Europe's top events dedicated to the business of immersive tech. If you're serious about creating or deploying immersive technology in your organisation, it's the event you need to attend.
Exhibition 2020
Also, our expo hall features booths showcasing AR and VR applications in verticals such as:
Engineering
Software
Marketing
Training
Architecture
Medical
This conference is attended by leading companies seeking to deploy immersive technologies in their organisations. Join them on May 7th.
Augmented Cities Europe
New for 2020 
How are Smart Cities going to deploy immersive technologies?
In addition, you can join a half-day seminar with leading companies and speakers on three panels: planning, tourism and health & safety. Powered by ARVR Innovate & Dublin City Council.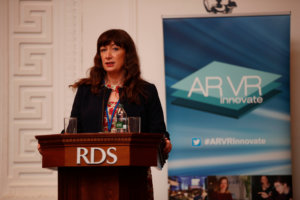 Join the online conversation using

#ARVRInnovate
Speakers at ARVR INNOVATE will address a number of key market sectors providing early adoption case studies relevant to many industry sectors including:
Industrial / Engineering
Training
Tourism and Events
Construction/Real Estate/Planning
Marketing Communication
Gaming and Entertainment