One of the most satisfying aspects of ARVR Innovate this year was how much the international representation at the event continues to grow. This year saw attendees from three continents arrive in Dublin. Not surprisingly the biggest contingent was from the UK. Speaking at the event was Final Kilkelly who heads up Immerse UK. This organisation is central to the huge investment that country is making in immerse technologies. Below is a report from their participation in the conference, from journalist Bernadette Fallon. It first appeared on the Immerse UK website.
It's one of the most important dates in the Irish immersive technology calendar and one of the key events on the country's AR/VR circuit. Showcasing a range of international speakers –  from Alibaba in China to Texas AM University and Immerse UK – as well as home-grown talent, a pitching stage and break-out advisory panels, ARVR Innovate is in its 5th year and growing.
As Andrew Jenkinson, from global award-winning experiential technology agency vStream, commented, "Every year the room, the stage and the audience gets bigger". And the plans are to make it bigger still as the industry develops.
"We want to see more AR and VR companies in Ireland," said Enterprise Ireland's Gearoid Mooney. "We have experience in helping a few big players in this area find investment and grow and we want to do more of this; this is a wave that will go forward."
With the aim of helping UK companies collaborate with Irish companies innovating in immersive tech, Immerse UK 's Fiona Kilkelly took to the stage for the final presentation of the afternoon. Citing the benefits of membership for Irish tech companies, she also drew attention to the Immerse UK online resources which include 60 best-in-class case study examples of immersive technology in action across a variety of sectors.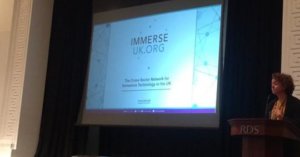 Demonstrating how immersive technology is being used to "transform existing businesses, as well as incentivising other businesses to take up technology", the case studies, she explained, "showcase both challenges and solutions and are a useful point of reference for business who may be in the process of encouraging others to get involved".
Giving an insight into their work in the UK, she said: "We can go to companies such as BAE and the British government, for example, to ask, what are your problems and how can immersive technology solve them? We then share this information with SMEs to let them know what's needed in the market so they can direct their R&D budgets accordingly."
Immerse UK also has strong links with private investors in the AR/VR/MR market and runs bootcamps for businesses who want to engage with potential investment sources. Ireland is an important market for UK business, she reveals, saying that Irish companies have a lot to offer. And with UK stats showing that investments are happening on a much larger scale now, the potential is substantial.
Her key advice to companies who want to develop and expand in the immersive technology market is this. "Sign up to Immerse UK, which is free. Put your business profile and logo up on our website. If you want to collaborate with other UK businesses, put yourself out there."