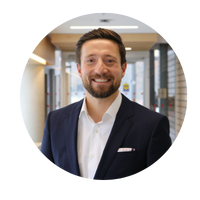 Dr. Joachim Scholz
Dr. Joachim Scholz is a leading augmented reality marketing professor who has researched and taught about AR's potential since 2014. He published the first-ever conceptual article on AR marketing in 2016, which won Article of the Year award. In 2020, Dr. Scholz launched the world's first dedicated AR Marketing courses for undergraduate and MBA students.
He is a research professor at Brock University, advisory board member for York University's Future of Marketing Institute, and member of Adweek's Academic Council. He frequently publishes in academic and industry publications, and he has presented his research and insights at over 30 international conferences and industry events.
Dr. Scholz helps brands thrive in augmented realities by revealing what value AR and related technologies provide to consumers. Through connecting consumer insights to cutting edge marketing strategies and technology trends, he develops conceptual frameworks that help companies seize AR's full potential for marketing and retailing.