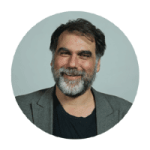 With over 20 years of experience in digital media and communication, Filippos has worked in multiple agencies across Europe producing work for some of the world's biggest brands and creating multi award winning campaigns, websites, installations and games.
For the past decade he worked as the Executive Creative Director for DigitasLBi and Framfab in Sweden and Denmark. He was a member of Nike's digital innovation team in Europe working within Framfab and Weiden&Kennedy and was a creative in Athen's 2004 Olympics design team at antidot studios a company he co-founded in London in 2000. He has lead the design process and teams for some of the world's biggest corporate sites ,apps and experiences, including Volvo Cars, Nike, Dior, Eon, Husqvarna and Reebok.com and has helped design and build numerous interactive installations for exhibitions and trade shows including The Ministry Of Sound, 100% Design and the Paris and Shanghai motor shows.
His latest work looks at the possibilities Mixed Reality, Web 3.0 and the Metaverse offer in creating new worlds which people can finally visit, interact with and create memories in.
A big believer on the principles on the importance of Design Thinking and Visual Design principles his work spans across all media and has won numerous accolades through the years including D&AD Design Direction Awards, Cannes Lions and a Bafta for excellence in interaction design. He is a frequent Keynote speaker around the world mostly on topics around Virtual and Augmented Reality and the digital future.
He currently works as the Creative Director of OutHere, a VR/AR production studio in Gothenburg which he co-founded in 2017.