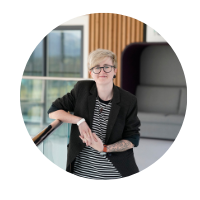 Klaire Hodgson
From realtime to render, Klaire is a master of all things 3D and Animated
Technologies Creative Director.
Her passion for working with new technology and anything visual, combines to
produce truly captivating interactive experiences.
Her talent for pairing stunning visuals with interaction, makes for the best immersive
experiences.
Klaire is in her element when she is driving a creative team, helping others to grow
and improve their skills. Her Creativity doesn't stop there, she has a strong
appreciation for music and loves to compose her own songs on ukulele alongside
volunteering for the local LGBT+ youth club.