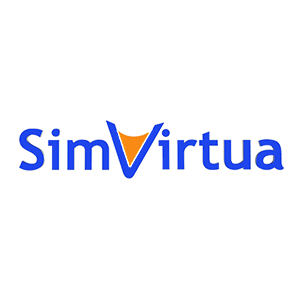 Simvirtua builds Virtual Reality & Augmented Reality experiences and software.
We are delighted to welcome back Simvirtua again as an exhibitor this year.
Simvirtua specialize in designing multi-user immersive simulations that can be used with head mounted displays, such as the Oculus Rift.
Simvirtua has built Virtual Reality experiences for marketing, training, manufacturing, well-being, retail and education.
The co-founders of Simvirtua Ltd. are John Jennings and James Corbett
James (B.E. Computer Engineering, University of Limerick) has 14 years experience in the IT industry working for the multinationals, Apple, Motorola and Analog Devices, in roles from Software Test to Network System Administration. He set up his first business in 2002, an online sports forum which traded internationally. He also acted as technical adviser to Gaelscoil O'Doghair in, Co. Limerick where he worked alongside visionary Principal Daithi O'Murchu. He is a Social Entrepreneurs Ireland Awardee.
John Jennings was a Creative Multimedia lecturer in Tipperary Institute for 10 years before transferring to Limerick Institute of Technology, lecturing on the Multimedia Programming and Design degree. John has lectured on subjects such as Web Design & Development, Web Programming, Software Development, Multimedia Authoring, XML, Content Management, Networking, Interactive Design, Project Management. In his spare time he dabbles in cloud computing, mobile development and home automation.