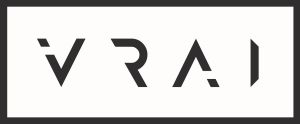 Here at VRAI we believe that data driven virtual reality has the power to change how people train.
We create simulation training, which was once only accessible to fighter pilots or F1 drivers, for whoever needs it, whenever they need it, wherever they need it. We combine these high end simulations with our data capturing product HEAT. During each training session HEAT captures, analyses, stores and presents data, which arms instructors and trainees with actionable insights to deliver objective feedback that improves human performance. Some of our customers we are currently empowering with data driven virtual training are within the aerospace, defense and offshore wind industries.
As a company, VRAI is about building a solid foundation on which our business can grow and scale. We are building the type of company that we want to work in. We create shared value for our customers, investors, employees and community by adopting the 'Triple Bottom Line'. This means that we focus not just on profit, but also on people and the planet.
With offices in both Ireland and the UK we are on the lookout for the best talents in the high-demand field of advanced technology. We believe that the most important factor determining the quality of our team is the diversity within it. We value a work-life balance here in VRAI, supporting hybrid/remote working options as well as flexible working hours.
https://vraisimulation.com/
https://www.linkedin.com/company/vrai/