This year's ARVR Innovate will be featuring companies travelling from far and wide to attend and participate. Among the exciting exhibitors will be Pixel Legend who originated in Poland and also have an office in Berlin.
Pixel Legend deliver a wide range of augmented reality and virtual reality services. They create advanced apps and games based on Unreal Engine. They also have extensive experience in web design and web development.
Originally conceived as a visualisation studio, the company realised the limits surrounding the high cost of production facing clients in that sector.
Pixel Legend's HyperDome 360 in Szczecin, Poland.  
They have since delivered a range of high quality projects including the HyperDome.360 which is a hyper-real immersive VR dome which can be used for interactive entertainment, education and urban design.  In fact the dome was even used in the Polish city of Szczecin to provide an immersive view of the proposed redevelopment of the waterfront and docklands areas, allowing the city to poll the preferences of their citizens.
Another standout project has been their work on 'pastguide' a loyalty app for promoting tourism by allowing visitors to complete location based AR or VR quests which were created by locals.  As the tourists progress they can claim discounted meals or other rewards in local businesses.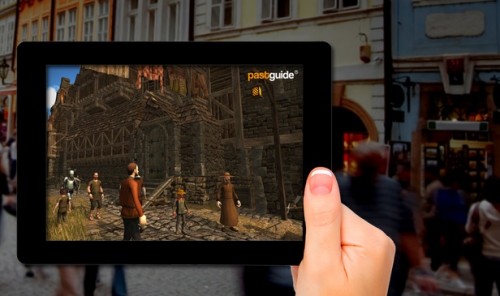 Pixel Legend's 'pastguide' in use
They are currently working on another impressive project using geolocation visualisation indoors and outdoors functionality – which can be seen in the below video.
Pixel Legend will be exhibiting at ARVR Innovate and will also be participating in the ARVR Innovate Startup Award 2018.